Online booking is a service which allows you to reserve the property you are interested in through Rentalia.com.
Accommodations with online booking provide you with a higher level of security by offering you a secure payment gateway integrated into the advertisement. What's more, your deposit is guarded by our booking gateway (AvaiBook) until 48 hours after the check-in date.
If you apply the online booking filter in your searches, the system will show you all the accommodations that offer this option.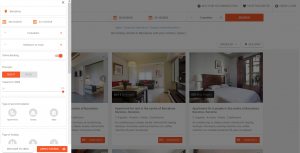 Tambien pedes leer este artículo en Español Deutsch Français Português Italiano Nederlands