AvaiBook is a partner with Rentalia, it is the booking management system for vacation Rental that will allow you to manage the online bookings received through our platform.
The platform includes the Channel Manager, the Booking Engine, Online Payments and PMS tools, all in one, as well as it offers official connections to Booking.com, Airbnb, Expedia, Vrbo and many other Ota's. These functions and its integration with other tools, will help you automatizing your tasks in an useful and efficient way.
Thanks to this partnership, you will be able to work with both platforms for free throughout this special plan granted by Rentalia, valued in 100€ a year, by only creating an announcement with us.
When you activate the online booking option, your AvaiBook account will automatically be created. You will then be receiving your user name and password credentials by email so that you can start managing your bookings on request by accepting or rejecting them,
Your accommodations will be created on the AvaiBook platform and you will be managing both the Rentalia and the manual bookings displayed in one single calendar. The system will also be in charge of collecting some payments for you and deposit them into your bank account. You can get assistance through the channel provided to this special plan on the email [email protected] (the customer service phone is not available on this plan).
Get to know AvaiBook a little more:
AvaiBook is a Channel Manager that includes many useful functions that you might need for your bookings management on a daily basis when you purchase a superior plan. You will be able to synchronise as many calendars as you work with on different Ota's in one single calendar where you will get all your bookings synchronised in order to avoid overbooking and to get an easier and faster management.
AvaiBook also integrates the Virtual Pos that allows you to set both manual and automatic charges for your web and some Ota's. It offers a secure system of payments that accepts both virtual cards from SEPA environment and outside too and that rejects fake or not valid cards. In addition to this, if you do not have your own Virtual Pos you will be able to use it manually from your session on the platform. The system also allows you to withdraw refunds, deposits, preauthorisation or set any rule you might need.
Additionally, the AvaiBook Booking Engine is on your disposition to be used at any website or social media. The Booking Engine integrates the online payment gateway and the XML synchronised calendar so that any guest would be able to purchase a direct booking online directly from you by just one click.
Last but not least, you can enjoy a very complete booking management system that includes many necessary tools for the activity you develop such as automated fast check-in and sending to the authorities, templates for automated emails, check-in/out and cleaning tasks management, invoices for guests and clients ,statistics or discount vouchers among others.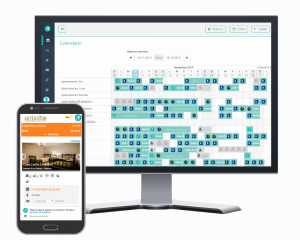 Tambien pedes leer este artículo en Español Deutsch Français Português Italiano Nederlands